CSB News & Events
CSB 2018 Alumni of the Year
March 22: The 2018 Cameron School of Business Outstanding Alumni recipients Brad Heath '96 '07M, Lauren Henderson '12M and Roy Page '84 all agree that UNCW is one of the best places to return to as alumni.
CSB Marketing Department Announces New Center for Sales Excellence and Customer Delight
March 21: UNCW's Cameron School of Business is pleased to announce the official launch of the Center for Sales Excellence and Customer Delight. The center was created to develop students' ability to think and work collaboratively by teaching, coaching and encouraging students to operate with a "win-win" mentality. By offering a variety of events hosted by faculty, the business community and sales professionals, this center will offer CSB students a competitive advantage in acquiring jobs and internships.
The Center for Sales Excellence and Customer Delight aligns perfectly with the goals of the Cameron School of Business to provide myriad opportunities for students, faculty and external stakeholders in the business community, particularly the sales community.
To supplement the marketing department's concentration in professional selling, the newly created center will allow for mentoring and role-play opportunities with sales professionals and allow sales professionals the opportunity to collaborate with faculty and students to conduct industry-specific research. The center boasts a robust advisory board of sales professionals from numerous industries and local companies to guide curriculum, internships, full-time employment and other issues to foster even deeper relationships between UNCW Cameron School of Business and the business community.
Associate Professor of Marketing Vince Howe has been appointed as the center's first director. He hopes to have students participate in regional and national sales competitions. He is also pursuing UNCW's membership in the University Sales Center Alliance, whose mission is "to advance the selling profession through setting and monitoring sales program standards, sharing best practice, enhancing sales curricula, and preparing students for a career in sales." Membership in the USCA will be valuable for students, faculty and the business community through the association with top sales programs around the country. UNCW is already listed as one of the "Top Universities for Professional Sales Education" by the Sales Education Foundation.
Additionally, through the Center for Sales Excellence and Customer Delight and USCA membership, the marketing department will offer students the opportunity to earn the Certified Sales Student certification. Networking options for faculty and students will allow for enhanced teaching and research ideas.
Dr. Howe's future plans include an internal sales contest as preparation for regional PSE sales contests, career meetings for Professional Sales students and relevant advisory board members, guest speakers from the sales profession and trips to training centers at North Carolina firms.
For more information about how to become involved with the Center for Sales Excellence and Customer Delight, contact Vince Howe, Director, at 910.962-3882 or howe@uncw.edu.
UNCW's Laura Lunsford Part of Two-Year National Academy of Sciences Study on Effective STEMM Mentoring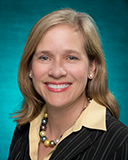 March 19: As part of a two-year National Academy of Sciences consensus study, UNCW Swain Center Director Laura Lunsford will be working alongside a "dream team" of researchers to determine and advance the application of evidence-based mentoring practices for traditionally marginalized individuals in the science, technology, engineering, mathematics and medical (STEMM) fields.
"I am honored to represent UNCW and be a member of this interdisciplinary dream team to improve mentoring practices across the country," said Lunsford. "It's exciting to work on a study that has direct application for our future workforce in STEMM."
An innovative outcome of this National Academy Consensus Study will be a web portal to provide evidence-based information for effective mentoring practices and processes that can be adapted by institutions nationwide.
More information about this study can be found via the National Academy of Sciences. Primary funders of the study include the Alfred P. Sloan Foundation, Howard Hughes Medical Institute, NAS Gulf Research Program and the Burroughs Wellcome Fund.
International M.B.A. Students Awarded Prestigious Hult Prize
March 2: UNCW graduates and current M.B.A. candidates Scott Davis '17 and Lee Mauldin '16 are working to "bridge" the gap between profitable business and sustainable practices.
Classmates and friends since 2015, the two co-founded Natural Bridges, LLC, a marketing and sales company that specializes in the development and advancement of green technologies. What drives their business is their personal belief that the environment doesn't have to suffer for profit.
They, along with team member Elliot Gunning '17, were honored with the Hult Prize at UNCW in November. Hailed as the "Nobel Prize for students," the Hult Prize's annual competition crowd-sources ideas from college students concerning a pressing social issue. In response to this year's challenge of harnessing the power of energy to transform the lives of 10 million people by 2025, the team pitched the idea of distributing mobile solar generator systems throughout the developing world, specifically to Small Island Developing States that are most susceptible to climate change and natural disasters.
BAISSC Department Wins SEDSI's Outstanding Institutional Support Award
February 2018: The Southeast Region of the Decision Sciences Institute (SEDSI) has awarded the Department of Business Analytics, Information Systems, and Supply Chain the Outstanding Institutional Support Award. The recipients of this award are chosen based on years of leadership participation on the part of the department faculty (many have served as past presidents and others have served with other service obligations) and sponsorship of their conference by the department and the Cameron School of Business. Only two other institutions have been given this award in the 48 year history of the organization: Virginia Tech and Georgia Southern - UNCW makes three. Congratulations!
CSB Hosts Study Abroad Fair
Jan. 29: On Wednesday, January 24, students gathered in Cameron Hall to learn more about all of the business-focused short-term study abroad programs being offered in 2018, including Russia, Barbados, Germany, and many other destinations. Faculty program coordinators and student alumni were on site to discuss the programs and share their experiences. Visit CSB's Global website to learn more about all of the programs being offered this year! [Photo album]
CSB Named 2018 Best B-School by Princeton Review
Jan. 3: CSB is an outstanding business school, according to The Princeton Review. The education services company profiles the school in its 2018 annual business school rankings.
According to Robert Franek, Princeton Review Senior VP-Publisher, "We recommend Cameron School of Business as one of the best to earn an MBA. We chose the 267 on-campus MBA programs schools on this list based on our high regard for their academics and our assessment of institutional data we collect from the schools. We also solicited and greatly respect the opinions of 23,000 students attending these schools who reported on their experiences at their schools on our 80-question student survey."
The Princeton Review's on-campus MBA survey asked students at the 267 b-schools about their school's academics, student body, and campus life as well as about themselves and their career plans.
UNCW Recognized in 2017
Jan. 3: As enrollment increases, UNCW is moving up in the rankings as well. In 2017, the university was recognized for excellence and value by numerous organizations, including U.S. News & World Report, which ranked UNCW 6th among public universities in the south and 14th overall in the south for 2018 (up two places from 2017), and Military Times, which ranked UNCW 1st in North Carolina and 40th nationally among the top four-year colleges for military-affiliated students.